Saffron has been quoted as the age-old secret of beauty in many legends. In the highlands of India, is a spice cultivated quite widely. Saffron or kesar is in fact one of the most expensive spices to buy. Even a small box of saffron is of great value. It is a well-known fact that saffron lightens skin color. Persians and Kashmirs are living examples of this fact. saffron is an expensive but very beneficial product that has been used since ages for good skin. In ancient times and even in Ayurveda it has been mentioned that this herb is used to enhance the beauty of the skin. Skin can have many concerns like the acne scars, dull shallow complexion, an irregular and patchy skin tone etc. So, this product is capable in giving relief from all that. Moreover, saffron stands are also used to achieve fairness and to lighten the skin complexion with in few days. Due to this very reason, a lot of companies have started using this ingredient in their skin whitening skin care range. Skin whitening is not achieved in a day but for that, everyday efforts are required. These some ways to use saffron to lighten your skin color.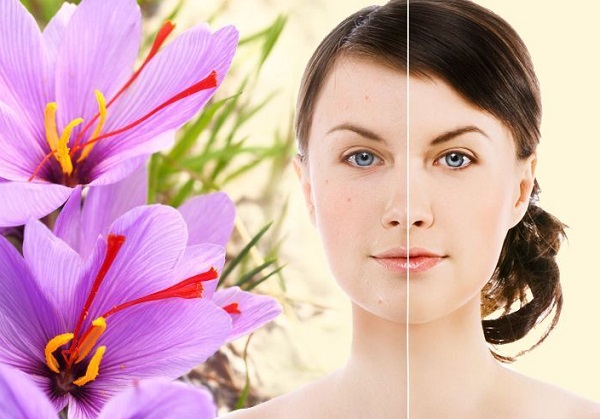 As a Skin Lightener
Saffron is widely been accepted as a skin lightening agent. It softens the skin and assists in removing impurities from the skin in amazing ways. Drinking a glass of milk with a few strands of saffron soaked for a while may help in lightening your complexion. You can also make a saffron lotion to massage on your face by soaking few strands of it in a spoon of milk. Apply the homemade lotion on your face and massage gently and finally wash with water. Regular use will surely bring about a big difference in the color of your skin. Another way to use it to lighten the skin is soaking it in olive oil, almond oil or coconut oil and massaging it on your face. It is essential to understand that the beneficial properties of saffron comes out only when soaked in a liquid medium; for example, water, milk, oils, etc.
Rose and Saffron Toner for Skin whitening
Rose along with saffron helps to lighten the skin on the deeper levels as rose is a gentle skin rejuvenating product. While it also acts in the deep epidermal layer which gives whitening results. Daily application can certainly provide decent results though for faster results try to use sunscreen as well. This is because the complexion will else get back to the same from sun exposure. This lotion can be used on the pigmented lips to get rid of the darkness and pigmentation.
How to make saffron ?
Take 2-3 rose flower and pluck the petals from it.
Now, put 2-3 teaspoonful of milk and 3-4 stands of saffron.
Put everything in the grinder and grind.
This should give a rosey pink colored paste.
This is our facial pack with saffron for skin whitening that we will try.
Cleanse the skin thoroughly and apply the pack.
Allow this to work for at least 45 minutes.
Yes, that is a lot of time but it has to be there for that long so that the skin gets maximum benefits.
Saffron Cream Facepack
 One of the best accompaniments for saffron is fresh cream. Grind fresh cream with saffron and apply this face pack for 10 minutes. It will give you fair and soft skin.
To Fight Acne
Due to its antibacterial properties, it has a high medicinal value. You can take advantage of this property in fighting acne. The main reason for acne is bacterial growth, which can aggravate and cause a severe breakout, if not taken care of. it may help in reducing bacterial growth and thereby reducing acne. The antioxidants present in it also aid in protecting the skin from harmful free radicals and makes your skin radiant and flawless. Make a paste by crushing some leaves of basil with a few strands of it. Dab the paste with the help of your fingers over the acne to shrink them significantly. The antibacterial effects of basil and saffron work well to prevent and cure acne naturally.
Saffron in Bathing
Water Saffron needs moisture to release its flavor. You can sprinkle some saffron strands in your warm bath water. Then soak in the bath for at least 20 minutes to lighten the skin all over your body.
Exfoliate Away Impurities
No doubt scrubbing can make your skin glow by removing the dead skin cells and bringing out the new layer of cells, but it may make scrubbing even better. If you want to lighten the skin instantly, mix some strands of it with granulated sugar and a few drops of olive oil or coconut oil. Use this paste as a scrub. The sugar sloughs off the dirt, grime and dead skin cells whereas it enhances the complexion. It leaves behind a new skin which appears clean and radiant.
Cucumber and Saffron Whitening Pack
Cucumber is used in skin whitening and dark spots removal product for skin care. Reason is quite simple! This product will increase the fairness and skin looks quite flawless and better. Therefore, when we try saffron and cucumber together, then these two-potential ingredients can give lightening sooner.
Method:
Take a small piece of cucumber and mix 3-5 strands of saffron in it.
Blend everything in the grinder and then apply evenly on the face.
Then you can wash the face after 20 minutes.  This is a remedy for skin lightning that can be tried every day as this is ideal for all skin types. It does tone the skin and cucumber is a good skin toner while the sun burns are also treated with this.
Saffron, Milk Honey Face Pack
Mix it with 2tbsp of warm milk and leave it for 20 minutes. Then add honey to thicken the paste and apply it on your face. This face pack will give you soft, supple and fair skin.
To Remove Suntan
Too much exposure to the sun may cause probable tanning. Even if you wear sunscreen, you may see tanning to some extent. It may make your skin appear dull, patchy and even wrinkled. Here comes saffron to your rescue. Take a spoon of milk cream and soak a few strands of it. Let it blend overnight. Apply the mixture over the area that is tanned on the next morning. It will considerably lighten the dark patches caused due to sun.
Saffron Lemon Mask
Do you have a very oil face? Then mix it with lemon juice and apply it on your face. This face pack will soak up the excess oil and give you a clean fair complexion.
Healthy Hair Growth
Hair loss can be treated successfully using it. Since it is loaded with antioxidants, it repairs hair follicles and promotes growth of new hair. Many people have found it to be the best treatment for baldness or alopecia. It replaces old and damaged hair with healthier hair. Take some licorice powder and add milk and saffron to it. Apply this paste in problem areas to arrest the loss of hair. Regular use of this saffron remedy will ensure new hair growth and make damaged hair healthier and lustrous. You may also massage your scalp with a combination of it soaked in its carrier oil to promote hair growth. Massaging will increase the blood circulation of the scalp while it will induce follicles to grow healthier.
Saffron and Sandalwood for Fair Skin
Sandalwood just like it is used a lot in home methods to get fair skin but both of the ingredients are quite expensive. Good thing is that they will give great results, this is how you can prepare it.
Take 2 teaspoonful sandalwood powder in a small bowl or a dish.
Now, you will need some saffron strands like 4-5 stands will do.
In that, you have to mix 2 teaspoonsful of rose water or milk.
Milk is good for dry skin while rose water is ideal for oily combination skin.
Mix everything well until a smooth paste is achieved.
Apply on the face and then wash after leaving this saffron pack for 30 minutes.
You can use these 3 times in a week.